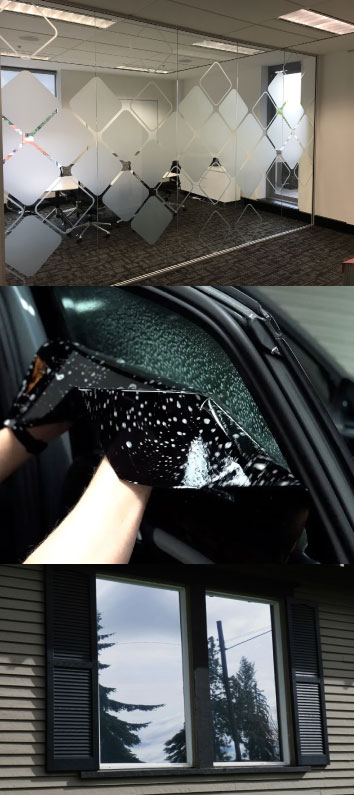 Privacy Window Tint Service

No matter what type of business you run, whether small or big, it is your right to find the best ways to build modifications like privacy window tint. There are tons of applications available for commercial buildings, but commercial office window tinting has become more popular than others. Owners of any business property can tint the windows of their offices in many ways. However, people who prioritize privacy can go with various privacy tints for office windows. Here we would like to mention top films for offices.
One-Way Privacy Film
It is one of the most popular films for workplaces. A person or employee sitting inside the office can see outside through it, but no one can see inside the office from the other side of the glass. An exterior sheet is installed on the glass partition or casement. Isn't it a fast and reliable way to add seclusion? So, hire us right now for office window tinting.
Sun Control
Its name shows that it is used to block ultraviolet rays. It is famous for business properties because it keeps the whole place cool in summers and warm in winters. Moreover, it is essential to keep cool workplaces in the summers because these places have a variety of machines. Laptops, computers, printers, and other devices. These devices produce their own heat that makes a more uncomfortable environment that impacts employees' health and working capabilities. Due to this reason, sun control films are available in several percentages of light transmission. It means more percentages provide more privacy and more heat control. If you are searching online about "office window tinting near me," then, fortunately, you are landed in the right place. Hire our certified and trained workers to tint the world corporate office.
Blackout Tint
Add total privacy at your workplace by applying blackout or whiteout films. There are lots of things, matters, and projects that an owner discusses only with a few members. For those places where these meetings are arranged, blackout polymer resin sheets are excellent to seclude unauthorized people. No one can see outside or inside of it. Natural light cannot pass through it. It means these sheets are solar efficient protect the interior furniture of any property. Do you want to apply it in your space? We ensure that no one is better than us to provide window tinting for office buildings. Don't go with local and cheap service providers and select this firm for office glass tinting.
Decorative film
Business owners love to decorate their workplaces with the help of decorative sheets. Yes, they are available in many colors, patterns, shades, and thicknesses. Clients can customize these sheets according to their tastes and requirement. Rainbow cut, frosted, floral print, horizontal pattern, blur view, logo cutouts, and green background are examples.
People install them in offices and kitchen casements, cabinets, and restroom glass partitions. This sheet will add a curb appeal to any house or room space. Homeowners also love to use them for residential property modification instead of expensive renovation methods. It improves aesthetics, adds privacy, offers more options in colors and patterns. It is best for both offices and homes. What do you think about it? Dial our number to get a fast office building window tinting.
Gradient Film
Tinted office glass offers employees, visitors, and guests a more comfortable and healthier environment. Before selecting any application, think clearly about what features you want to add to your commercial building. It will help you a lot in choosing a suitable option. If someone is looking for a simple, classy, and protective look for his office, choose gradient film. It is one of the best options for window tinting for commercial buildings. But remember one thing that doesn't select any random local service provider because their lack of knowledge can waste your time and money. Do good research on google, read customer reviews of several companies, collect multiple quotes, and compare them. In this way, you can choose a trustworthy partner for your property.
Privacy Window Tint for Commercial Buildings
It is not easy to tint huge building glass casements and other partitions skillfully. Unprofessional and local workers cannot do this correctly. Our company, Performance Auto Group is proud that our workers and designers are insured and experienced in this field. They have deep knowledge about residential, commercial, automobile tinting. They know how to skillfully remove or install laminated sheets on any property or any vehicle.
Privacy Window Tint for Office Buildings
Get top-notch quality services and products from Performance Auto Group LLC and save your time and money in many ways. We know that many people spend a significant amount of money on a half or yearly basis on buying blinds and curtains. They purchase drapes and curtains just to prevent sun rays, heat, and glare or to add privacy. However, these things can never give protection from all the mentioned things. Only office tinted glass is an excellent source of privacy and protection against solar rays and heat.
Why are these Films Essential for Commercial Buildings?
Our company never compromises the quality of thermoplastic polymer resin sheets, known as tints. Clients can get a wide range of these sheets from our shops and hire installers from us. From applying to removing, experts can do any job for each client. Whether a client has a small or big property, we will take care of everything to modify it. Are you ready to enhance the beauty of your building and add more privacy features to it? Hurry up! Pick up the cell phone and ring us a bell to grab our excellent products at affordable rates. This firm is open 24 hours and seven days for its customers. Contact us anytime you want for your privacy window tint!