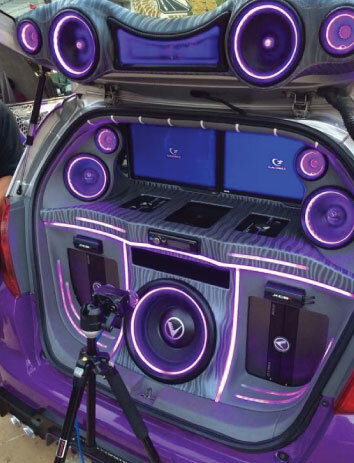 Custom Car Stereo Installation in Tampa, FL
Custom car stereo is one of the best additional applications or elements of automobiles that improve our road journeys and makes them enjoyable for us. It is a complete setup used to play music and trendy tracks in autos. People who want to avoid the unpleasant sound of engines and traffic now can install our custom car stereo systems. Are you ready to make your dashboard more stylish and attractive by placing this setup? It is not just about radio, a few buttons, screens, and knobs. There is a lot more about it! Do you want to know more about it? Yes, we will tell our clients how incredibly we make and provide an excellent audio system for their automobiles. Visit the company's profile or dial the mentioned number. Technicians here are ready to provide remarkable custom car stereo installation in Tampa, FL. Our courteous customer representative will guide each client with respect and devotion. Ask whatever from him, and he will try to answer all questions!
Basic Parts of Custom Car Stereo System
We mentioned earlier that it is not just about an old radio or a few buttons. It is more than this. It makes the inside environment pleasant for the driver and passengers. Following are the essential elements of this system:
Head Unit
If we go back to the 1930s, vehicles had radio tuners but nothing else. This setup has enhanced features, advanced functionality, screens, knobs, and buttons. People now play videos and audio and even tune radio channels in them. From cassettes to CD players, now we are moving to new ways of listening to music. People can connect their smartphones via Bluetooth or wire cable to the head unit. They can watch videos with the help of smartphone-compatible touch screens and enjoy audio music while driving automobiles. Please do not waste time searching for a custom car stereo near me; instead, contact us.
Speakers
Speakers are one of the most vital parts of this unit. Without them, you will just hear a buzz or airy sounds, nothing else. Bring life and joy inside of your auto by installing them in it. Speakers work by translating the electrical signals from an input like a CD into vibration, so we hear sound. Performance Auto Group specialists sell or fit both coaxial and component speakers in the vehicle. Coaxial is what every auto owner finds in a factory-installed audio setup. It consists of a woofer that produces low-quality or mid-range sound and a tweeter placed atop the woofer to produce high-range sound. A Buyer can place more tweeters to get better sound performance. On the other side, component speakers consist of several units. They utilize a crossover network that helps produce high-range sound compared to the coaxial unit.
Outboard Processing Gear
It is used to process sound signals separately from the functionality provided within a mixing console or a digital car stereo custom unit. There are various ways that you can route your audio through this component. Preamplifiers and dynamic processes are the few types of outboard gear.
Amplifier
To enhance the performance of subwoofers amplifier is attached to them. Amplifiers boost powerful audio signals that are enough for the speakers. In this way, amp adds a more fun experience to road journeys. Almost every auto has a built-in speaker or amp, but an owner can add those elements as much as he/she likes. Stop here if you are frustrated by searching for a custom car stereo installation near me. Do not miss that place because we are best to select for custom car stereo and tint.
MP3 Player Connectors
People prefer to connect their smartphones to play music using mp3 player connectors. Most modern autos now have built-in connectors for these modern devices that change the way of play music. There is a lot to talk about it. Please stay connected with us to know more about dual car stereo custom service. We have more than 10 years of experience in this field, and experts here know what type of audio sound unit is best for their clients. Get top-quality speakers, subwoofers, amplifiers, mp3 player connectors, car soundproofing, DVD players, screens, and in-dash GPS navigation from us. Everything comes with a 100% guarantee.
Select Us for Audio System Installation and Tint
Select Top-quality Auto Window Tint
We are providing excellent car window tinting services in Tampa, FL. Select any tint from our vast collection. Clients can also customize their window film. We have a variety of privacy, security, UV ray protection, and heat and glare reduction window films for automobiles. Each film has multiple benefits and features according to its types, shades, colors, and thicknesses. People who want both custom car stereo & tint services can rely on us.
Matte Window Films
Matte black, red, and yellow films are widely applied to cars. Owners love to apply matte tinted sheets on their automobiles to improve their value and appearance. Clients can find the best and a variety of matte shades in films from our company's profile.
Glossy and Shiny
Do you want to make your car newer, safer, glossy, and brighter? No matter how old and the new car you have, window film installers will enhance their beauty and security by applying tinted sheets on them. Are you ready to take advantage of our online car stereo customer services and customize tints suppliers?
Custom Designs
According to clients' desired designs, thicknesses, and shades, professionals here are making customized tinted sheets. Prices vary according to those factors that are mentioned above. From making to installation, our professionals do every task for their consumers.
Get a Free Quote from Us
Call us to get free quotes and instant information or advice for custom car stereo hours, installation, auto window films, and other car accessories. We are ready to assist each client in Tampa, FL. We will make our consumers' road journeys more beautiful by fitting top-quality music units.