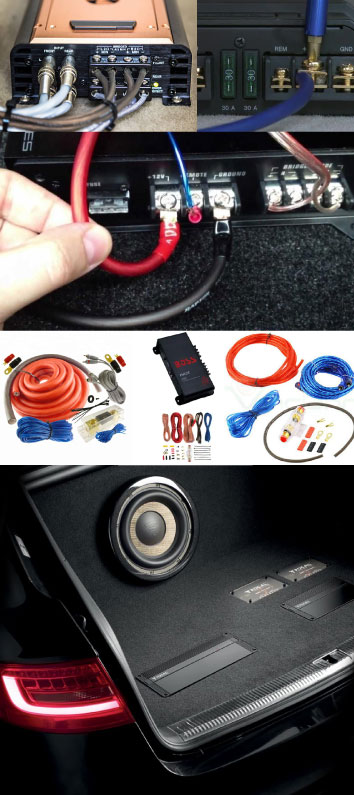 Car Amplifier Installation

Contact Performance Auto Group today for your car amplifier installation. Here's a quick overview of what an amplifier is. An amplifier is a component that amplifies low-quality electronic radio signals. It levels up these signals in high volume enough for driving loudspeakers. This part is found in almost every sound setup. It has a head that contains a preamplifier, tone controls, and electronic effects. It is an important part of a vehicle to listen to music, radio, hands-free calling, navigation, and more. It minimizes the noise of the road and engine, which helps the driver enjoy driving more than anything else and enjoy music. Instead of typing or searching more about "amp installation near me," ring us a bell right now. Performance Auto Group specialists are knowledgeable and efficient in car amplifier wiring. It would be best to contact us instantly for its installation and fix the wiring issues.
Sub and Amp Wiring
When subwoofers and amplifiers work together, it means now you will enjoy the music that brings more joy into your life. The combo of these two components changes the whole scenario. However, be careful while purchasing them. Don't go to any local shop or unprofessional techs. Hooking up amp to a factory radio or subwoofer is not easy for a layperson. It requires skills and experience. We are proud to say that these qualities are found in our technicians. They know how to wire amplifiers or repair any damaged part.
Automobile owners who face any issue with their stereo systems, contact us. Our technicians can diagnose the issue and fix it in no time. Bring your car to our shop and see how skillful pros can perform sub and amp installation!
Common Issue of Car Amplifier Installation
Here are some common issues that people face with their music setups. If you notice any issue, don't ignore it or leave it to worsen. It is advisable to take quick and right action instead of delaying it. It will save you both time and money.
Not turning on:
Nothing is more frustrating than when the amp is not turning on. Many factors can cause this issue. For example:
Faulty remote
Poor wire connection
Faulty wire connection of ground wire
Don't worry, pick up your phone and dial the mentioned number. Our customer representative will guide you properly. He will educate you first on checking minor issues or fixing them. If nothings work then visit our shop and rest assured. Professionals diagnose it carefully then suggest that it needs a repair or replacement.
Bad sound:
It happens when the issue belongs to primary power supply voltage and the amp. It is also known as clipping. It also occurs when a person is playing music too loud. It is noticeable that all type of amplifiers has specific limits, so anyone can face this issue. The best way to handle problems is to hand over the device to professionals. They know better about these apparatuses and deal with them skillfully.
Humming speakers:
This problem occurs in old models or mostly in-house stereo systems. It is also related to the wiring and plugs. So, allow experts to handle it efficiently.
On but no sound is coming:
Lousy installation of this device can cause the mentioned issue, which is also caused by it. here are a few reasons that we would like to mention here:
It happens when the ground wire does not catch the signals
RCA codes are damaged
Poor voltage supply from a battery
It is highly recommended to our beloved clients that always try to find the best place for subwoofer and amp installation. We suggest it because an unprofessional service can cost you more and waste your precious time. On the other side, experienced technicians have deep knowledge about the whole process of perfect car amp installation. They never wired them poorly, causing you troubles later over time.
Bass issue:
Poor speaker placement and equalizer settings can cause a problem. Try to reset the settings of the equalizer or move the speakers. If it does not work, professionals are better than putting stress on your shoulders.
Car Stereo System Repair Experts
If you want to get rid of your old or faulty issue or fix it, don't panic. Bring your auto to our shop and put the responsibility on our experts' shoulders. Whether a person places a new sound setup in his car or has an old one, issues occur in both conditions due to many factors. However, the main reason for these problems is faulty wiring, and you can save yourself from it by connecting skilled technicians. Don't waste more time and visit Performance Auto Group experts to solve any problem. We provide a full suite of services for automobile stereo set up, from repair to replacement get an assistant from one place. Is anyone wants to add amp to factory radio? Hire us!
Power Wire for Amp in Riverview FL
Wires or cables play an essential role in an electrical device, especially in subwoofers and amplifiers. If any cable or wire is not correctly connected to the amp's battery that supplies powerful voltage to it, this device won't work perfectly. When this device is not turning on, causing trouble in sound and bass, it means the amp power wire to battery is not connected correctly or damaged. Is anyone here that is facing any issues? Does anybody install a new set of music systems in his automobile? Connect with this form right now to get incredible benefits and excellent services. We are providing a variety of top-notch quality parts of the audio setup, window tints for vehicles, and more. Instead of typing car amp installation near me, contact us. We are a reputable company that has been working for 20 years in this business and providing various services. following are the services that you can get from us:
Automobile Window Tinting
Car audio placement and repair
Residential and Commercial Window Films
Car Amplifier Installation